[rev_slider_vc alias="wine2″]
ONLINE COOKING CLASSES
LIVE FROM TUSCANY
---
LET'S COOK TOGETHER!
---
---
I'm excited to invite you to become a Founding Member of my brand new Cooking Club. It's going to be fun and delicious!
Our inaugural season is July 1 – September 30, 2020.
Join us!
---


Chicca's Cooking Club members will enjoy:

---
 • Connecting with Chicca from the comfort of your kitchen
 • Improved home cooking skills
 • An Italian Mamma's tricks and tips
 • Delicious new seasonal recipes
 • Something fun and meaningful to do from home
 • An exclusive peek into authentic Tuscan country life
Plus the unique opportunity to become a Founding Member and supporter!
---
Sign up by: July 10, 2020
1st Season: July 1 – September 30, 2020
---
COMING SOON
---
---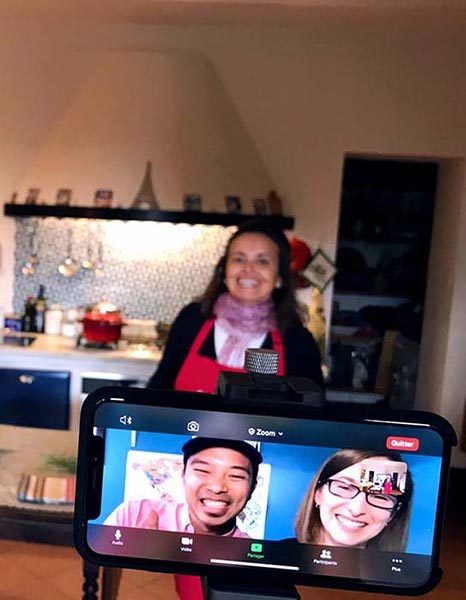 ---
---
MEET YOUR HOSTS!
Chicca Maione, Cooking in Tuscany ~ Chicca is your charistmatic Italian friend and teacher! With over 20 years experience teaching cooking classes, she loves to share her knowledge about home cooking from her family heritage. She'll help you build skills to cook delicious meals in your own kitchen while bringing to life the culture of Tuscany.
---
Jedd and Michelle Chang, Intentional Travelers ~ Jedd and Michelle are your class co-hosts and membership administrators. As a nomadic couple, they are passionate about cross-cultural exchange. They have lived and worked with Chicca for several months, assisting with her classes and cooking vacations. Pros at running events online and offline, they'll make sure your membership experience goes smoothly.
---
Arnaud Bachelard, Copywriter & Photographer ~ Arnaud, a guy of many passions and talents, is the gentleman behind the camera. Born in France, he traveled across the world and now lives with Chicca in Tuscany. He's the creator of all the pictures and handles the camera during online classes, capturing every little detail of the cooking process for you.
---
---
FREQUENTLY ASKED QUESTIONS
When are the live cooking classes held?
Online classes will be twice per month on Saturdays around lunch time in the United States, dinner time in Italy. Dates for our inaugural season are: July 11 and 25, August 8 and 22, September 12 and 19, 2020.
What if I miss a live cooking class?
Members will have access to video recordings of each class. That way you can watch the replay whenever is most convenient for you.
How does it work? Do I need a special program to participate in the membership?
Cooking classes will be held on Zoom. This requires a quick and easy download, but you do not need a special Zoom account to participate.
The video lessons library, recipes, and live class information for the Club will be hosted on this website. Members will have a username and password to access these private webpages.
The best way to interact with Chicca throughout the week will be through the Club's exclusive Facebook group (optional). Important Club communications will also be sent out by email.
What does it mean to be a Founding Member?
Since this first season of the Club is a bit of an experiment, our "taste tester group" will get in the ground floor to try it out and help us improve. That's why we're offering a special discount for those of you dear supporters who are ready to jump in with us and work out the kinks. Your honorary title of Founding Member will stay with you as long as you're in the Club.
Is membership paid monthly?
Membership is paid up front for each season. A season covers three months, so you can make one payment by July 10 and enjoy your membership access through the end of September. The next season's payment would be made October 1, if you wish to continue your membership.

Can I just sign up for individual classes?
Yes, tickets to join live classes will be sold a la carte. Classes will be $27 per person, per class.
If there are multiple people in your household who want to join a class, we ask that each person purchase a ticket. However, Club members are welcome to have other people in the home participate in classes free of charge.
Can I sign up for the Cooking Club after July 10?
Doors close for the special Founding Membership on July 10. This is the only opportunity to join with the discounted price. New members will not be able to join in the middle of a season.
If this initial "taste tester" season goes well, we will open doors to the next season of the Club later in the Fall.
---
Founding Membership
$97

/per Season (3 Months)
* A special Founding Member discount for being in our "beta" group
* A full season subscription (3 months)
* 6 interactive online cooking classes, live from Tuscany (as well as video recordings of each class)
* Anyone in your home can watch classes alongside you without purchasing additional tickets
* Exclusive access to a growing library of cooking lessons and recipes
* Special access to Chicca's life updates, Italian adventures, and cooking advice through a members-only Facebook group
* Opportunity to provide feedback and shape the direction of future seasons in the Club
Private In-Person Class in Tuscany
$110

/per person
* 1 cooking class at La Casa Toscana in Tuscany
A La Carte Online Class Ticket
$27

/per person
* Access to 1 interactive online cooking class, live from Tuscany
---
---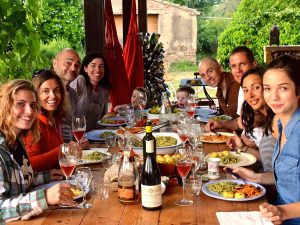 "Lively, personable Chicca gave a fun online cooking experience using fresh, simple ingredients. You realize that the very best of Italian cooking is the fresh, simple ingredients prepared in a simple way. Chicca gave us a wonderful virtual tour of her home, garden and kitchen and we can't wait to go visit her in person! Grazie for the delicious recipe and the amazing , virtual Tuscan sunset!!"
2busy2work
"This was a virtual experience which was very enjoyable. If I ever get to Tuscany, I will definitely try to get the first hand experience. Chicca was very friendly and personable. I loved every minute of my experience and look forward to the opportunity to learn more from her!!"
Lisa L
"Chicca's online cooking classes are excellent! I have taken in-person & online cooking classes in several countries including Morocco, France, Italy, and Ireland. Her style of Tuscan cooking is healthy, fresh, and very satisfying. Her Pasta e Fagioli recipe is by far the best I have ever made. Her classes are easy to follow and the recipes are concise and clear. I love her gnocchi class… yum!"
Cynthia E
"I had the wonderful experience of not only participating in Chicca's cooking class but of also spending 3 weeks on her beautiful and idyllic property. Chicca is an excellent host and cook. The best food I had during my entire stay was Chicca's cooking. Castagneto Carducci is a perfect location of an off the beaten track vacation. My desire on this trip was to absorb the local culture and there isn't a more perfect place to do it than La Casa Toscana. Grazie tanti, Chicca."
Linda
"My wife and I really enjoyed the cooking class with Chicca. We made everything from Antipasta through dessert. She was very helpful in explaining how to do each step and walking us through the ways to make pasta (from scratch!). By the end, we felt like we were part of the family. We highly recommend this to all!"
Joey
"Lively, personable Chicca gave a fun online cooking experience using fresh, simple ingredients. You realize that the very best of Italian cooking is the fresh, simple ingredients prepared in a simple way. Chicca gave us a wonderful virtual tour of her home, garden and kitchen and we can't wait to go visit her in person! Grazie for the delicious recipe and the amazing , virtual Tuscan sunset!!"
2busy2work

2busy2work
Virtual Tuscany, almost like you were there

"This was a virtual experience which was very enjoyable. If I ever get to Tuscany, I will definitely try to get the first hand experience. Chicca was very friendly and personable. I loved every minute of my experience and look forward to the opportunity to learn more from her!!"
Lisa L

Lisa L
Virtual Cooking Class with Chicca

"Chicca's online cooking classes are excellent! I have taken in-person & online cooking classes in several countries including Morocco, France, Italy, and Ireland. Her style of Tuscan cooking is healthy, fresh, and very satisfying. Her Pasta e Fagioli recipe is by far the best I have ever made. Her classes are easy to follow and the recipes are concise and clear. I love her gnocchi class... yum!"
Cynthia E

Cynthia E
Chicca's Tuscan Yum

"I had the wonderful experience of not only participating in Chicca's cooking class but of also spending 3 weeks on her beautiful and idyllic property. Chicca is an excellent host and cook. The best food I had during my entire stay was Chicca's cooking. Castagneto Carducci is a perfect location of an off the beaten track vacation. My desire on this trip was to absorb the local culture and there isn't a more perfect place to do it than La Casa Toscana. Grazie tanti, Chicca."
Linda

Linda
Deliziosa

"My wife and I really enjoyed the cooking class with Chicca. We made everything from Antipasta through dessert. She was very helpful in explaining how to do each step and walking us through the ways to make pasta (from scratch!). By the end, we felt like we were part of the family. We highly recommend this to all!"
Joey

Joey
Cooking in Tuscany
Don't miss out on 3 months of live cooking classes with Chicca at the Founding Member introductory price.
Doors close in…
---
---