---
November 2022 Bundle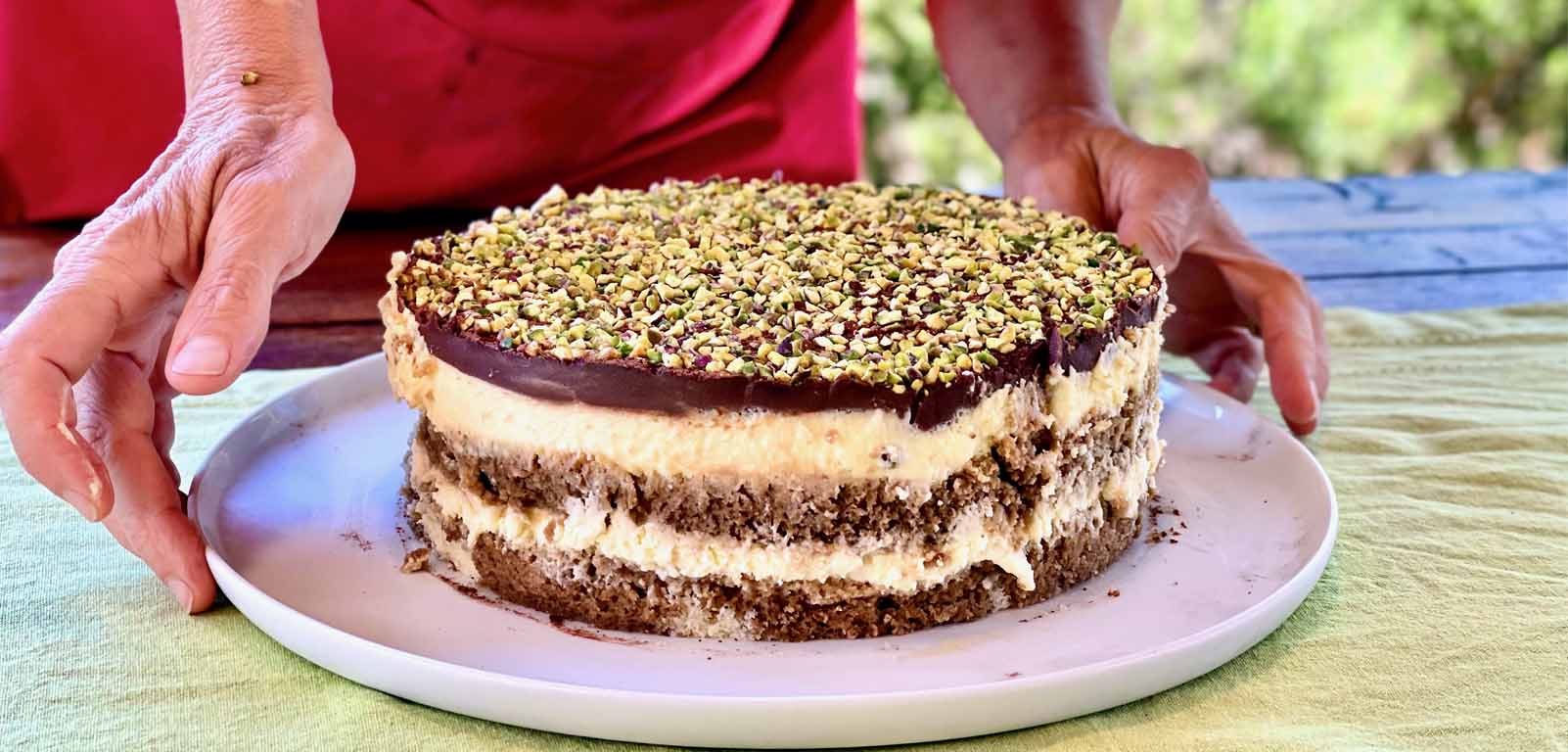 Enjoy 2 live cooking classes at a discount!
– Green Fettuccine
– Tiramisu Cake
$74

$55.50 LIMITED TIME OFFER
Sign up below to purchase
Green Fettuccine with Cream and Peas: November 5
Purchase this class a la carte for $37
Tiramisu Cake: November 19
Purchase this class a la carte for $37
Bundle Includes: 2 Live Cooking Classes
– Shopping list and recommended tools list
– Printable recipes, Detailed written instructions
– Classes live from Tuscany

– Recorded replay videos of each class

– Lifetime access
---
FREQUENTLY ASKED QUESTIONS
About the Green Fettuccine with Cream and Peas Class: November 5
Green fettuccine is a fresh egg pasta with a touch of color and a delicate taste. The traditional dough is prepared with the addition of vegetable greens. In this recipe, I'll share my tips to make the perfect green pasta dough in no time, without the extra step of steaming the veggies.
The sauce, simple to make, is a classic for many Italians when there's not much time to cook but you still want to impress your family and friends. Sweet peas, fresh cream and crispy prosciutto are an incredible trio for dressing this pasta and welcoming everyone around the table.
You'll love the colorful variation on this traditional dish!
*A pasta machine is recommended for this class. Alternative instructions are provided in advance for those not using a pasta machine.
Key Ingredients
greens (basil, chard, spinach, mixed herbs)
prosciutto
sweet peas
heavy cream
parmigiano cheese
marjoram
Purchase this class a la carte for $37
About the Tiramisu Cake Class: November 19
What can be better than tiramisu? The answer is: a tiramisu cake. Some might even call this a killer cake. Not only does it look really impressive when assembled, it's absolutely delicious, too.
In this recipe I will share how to make the best sponge cake ever, credit to a star chef who happens to be a friend (lucky me).
Layer after layer, we'll build a tiramisu cake with a luscious mascarpone cream and top everything with a dark chocolate ganache. Believe me, it's outrageously scrumptious.
Key Ingredients
eggs + egg yolks
sugar
milk
cups flour
baking powder
butter
heavy cream
dark chocolate bars or chips
mascarpone cheese
coffee
pistachios
unsweetened cocoa powder
Purchase this class a la carte for $37
When do these classes take place?
The live version of these classes are scheduled for Saturdays – November 5 and November 19 at 1:30pm ET (lunch time in North America, dinner time in Europe).
When will I know what ingredients to purchase for the classes?
The full recipe and list of ingredients for each class are already published on each Class page, so you can start to prepare for future classes as soon as you enroll. You will also receive a shopping list by email about one week in advance, with a reminder the day before class.
What if I miss a live cooking class or have to leave early?
Participants will have access to video recordings of any class they purchase. That way you can watch the replay (and cook) whenever is most convenient for you.
How does it work? Do I need a special program to participate?
Cooking classes will be held on Zoom. This requires a quick and easy download, but you do not need a special Zoom account to participate (we'll send all the instructions on how to use Zoom if you register for a class)
Class information and video replays will be hosted on this website. You will set up a password to access your class pages when you enroll.
Important, class communications and reminders will be sent out via email.
How long do I have access to my class replay?
Purchasing this bundle gives you lifetime access to the two class pages and videos.
How can I purchase this as a gift for someone else?
1. Enter your own name and email address on the first page. If you've registered for our classes or membership before, make sure you're logged in. If you're new to our system, you'll create a password. This way, you will receive the receipt for this transaction and be able to tell when the gift has been redeemed.
2. Check the box for "Is this a gift?", enter your payment information, and click Sign Up.
3. You will then be prompted to enter contact information and a message for your gift recipient. This message will be sent immediately by email, and your recipient will be able to sign themselves up at no cost.
If you prefer not to notify the recipient immediately, enter your own email address for the message and then forward it to your recipient whenever you're ready.
What do I do if I received this as a gift?
Enter your name, email address, and create a password in the registration form below to claim your gift. When following the registration link in the email you received, there should be no charge to you.
---
Fill out the form below to enroll in this bundle.
If you have registered for one of our classes in the past,
please log in before enrolling. See FAQs above on how to gift this bundle.