---
November 18: Zuccotto Tiramisù Class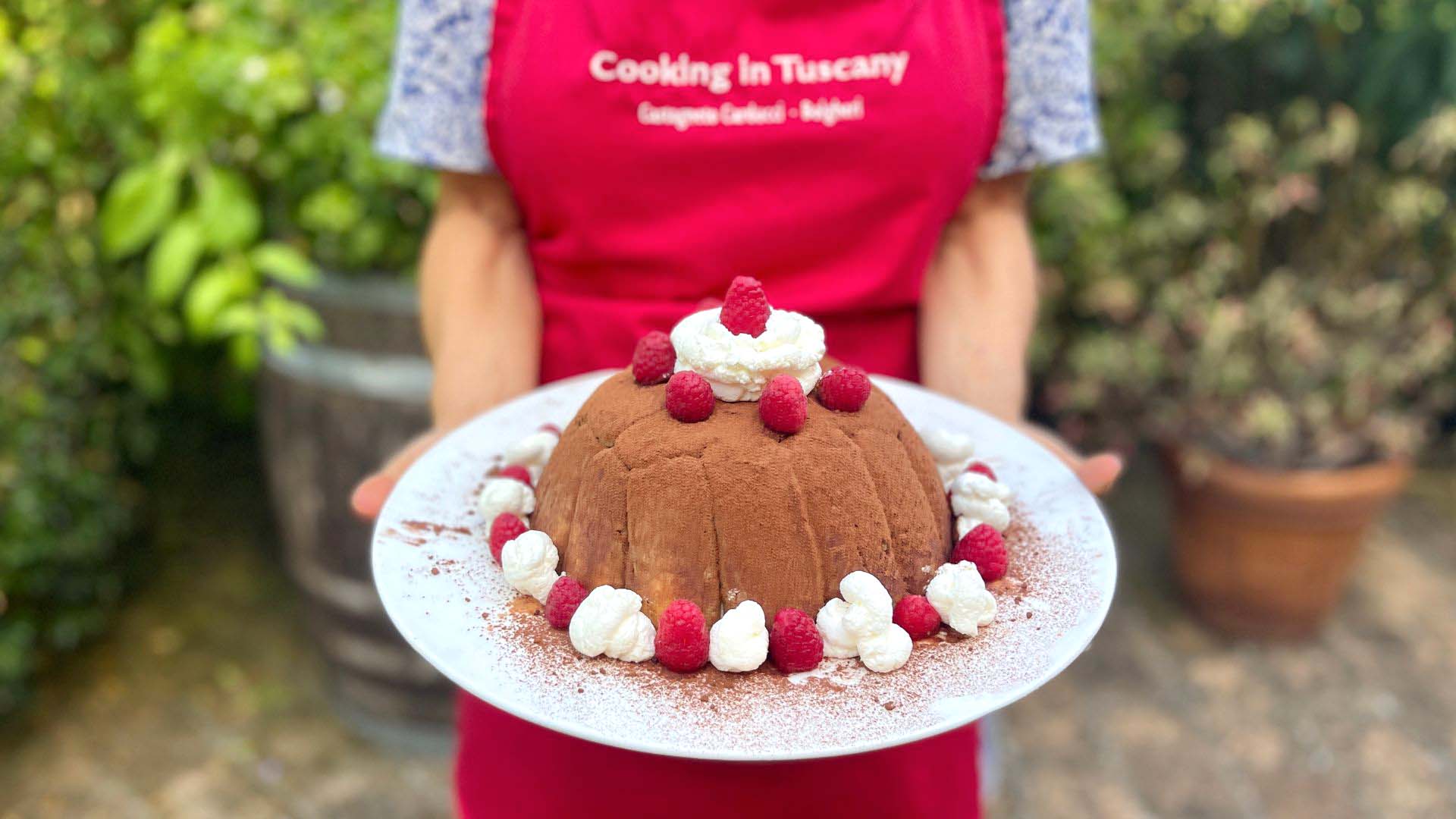 Join us for this class on: Saturday, November 18
Zuccotto-Tiramisú is a delicious dessert that combines two classic Italian desserts: Zuccotto and Tiramisú. It's a reinterpretation of the traditional Florentine dessert, using the ingredients of one of everyone's most beloved desserts: tiramisú.
In this class I'll teach you how to make a dome-shaped dessert, with a base of ladyfingers soaked in coffee and layered with a rich and creamy filling. Instead of the traditional tiramisú cream, I will combine mascarpone cheese with ricotta and orange zest, for a lighter and healthier filling. Once the dessert is set and chilled, it is served dusted with cocoa powder and dollops of whipped cream. 
The scent of cinnamon, the fragrance of orange, the blend of the flavors from the coffee-soaked cake and the luscious mascarpone filling makes this dessert perfect for the holidays and a delightful treat for those who enjoy traditional Italian desserts!
Key Ingredients
– mascarpone cheese
– ricotta cheese
– coffee
– cinnamon
– ladyfingers
FREQUENTLY ASKED QUESTIONS
When are live cooking classes held?
Online classes will be on Saturdays, around lunch time in the United States, dinner time in Italy. Our schedule allows for mainland U.S. time zones to participate around lunch time, while it's evening in Italy. Classes start 10:30am PT / 1:30pm ET / 7:30pm Italy and go for 60-90 minutes.
How much does each class cost?
A la carte classes are $37 per device. Want to save 35% on live classes? Learn about becoming a Chicca's Cooking Club member.
When will I know what ingredients to purchase for the classes?
The full recipe and list of ingredients for each class are already published on each Class page, so you can start to prepare for future classes as soon as you enroll. You will also receive a shopping list by email about one week in advance, with a reminder the day before class.
When is the latest I can enroll in a class?
Enrollment will stay open until the last minute. However, for the best experience, we recommend enrolling at least 24 hours in advance – and even further in advance if you need extra time to shop for ingredients. Additionally, important instructions will be sent out the day before each class.
What if I miss a live cooking class or have to leave early?
Participants will have access to video recordings of any class they purchase. That way you can watch the replay (and cook) whenever is most convenient for you.
How does it work? Do I need a special program to participate in the class?
Cooking classes will be held on Zoom. This requires a quick and easy download, but you do not need a special Zoom account to participate (we'll send all the instructions on how to use Zoom if you register for a class)
Class information and video replays will be hosted on this website. You will set up a password to access your class page when you enroll.
Important, class communications will be sent out via email.
Check our online classes page for occasional deals and discounts on past classes.
---
FILL OUT THE FORM BELOW TO ENROLL IN THIS CLASS
If you have registered for one of our classes in the past,
please log in, then come back to this page to enroll.
You can reset your password here.
Did you receive a class as a gift ?
Complete the form below and click the "Have a coupon code?"
link to enter your custom code.