---
Join Chicca's Cooking Club – Become a Member!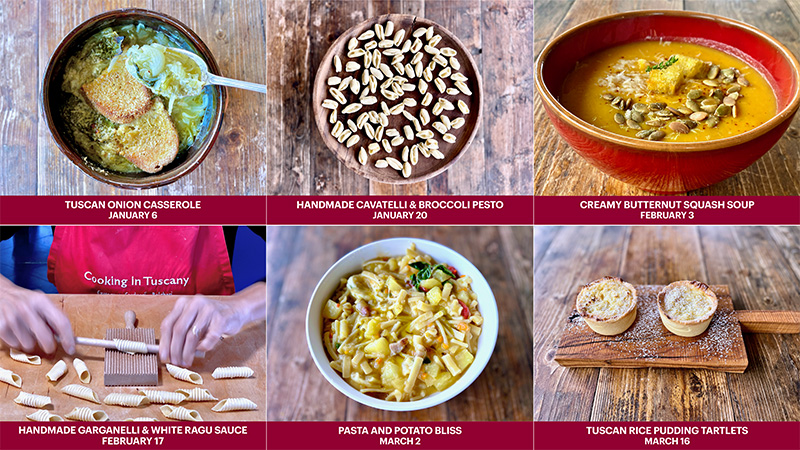 Register by December 31, 2023
$149

/per Season (4 Months - 6 new Italian recipes)
• Four-month membership in a global community of happy cooks
• 6 interactive online cooking classes live from Bolgheri, Tuscany
• Replay videos, if you miss a live class enjoy it on your own time later
• 60+ past classes to watch on-demand - exclusive video recipe library
• Anyone in your home can watch classes and cook alongside you
• 12% off on DaTerra Cucina cookware & exclusive Facebook group
• Wine pairings for each recipe & a new friend in Tuscany to visit
Can I purchase this as a gift for someone else?
1. Yes! You can purchase a Chicca's Cooking Club 4-Month Membership.
2. Gift certificates for the next membership are available HERE or click on the button above.
3. Registration is only open for a limited time. Your recipient will need to claim their gift by December 31.
4. You'll receive a printable PDF gift certificate with a coupon code and registration instructions for your recipient.
5. Be sure to download the PDF gift certificate from your email receipt and print or email it to your recipient.
6. To join any of the live classes, your recipient will need to follow the instructions on the PDF to enroll themselves by December 31, 2023.
What do I do if I received this as a gift?
1. Refer to the PDF gift certificate you've received with the coupon code.
2. Fill out the registration information below.
3. IMPORTANT: click "Have a coupon code?" and enter your gift code that you received on your PDF gift certificate. You should not need to enter any credit card information.
4. Click "Sign Up" and receive a confirmation email. You've claimed your gift!
Contact us at club@cookingintuscany if you run into any issues.
REGISTER BELOW TO BECOME A MEMBER
* This is a recurring subscription, payments will continue unless you cancel prior to the current cycle. We'll send you a reminder before your membership automatically renews so you can cancel or pause anytime via your account.