---
If there is a name to which Bolgheri owes its fame, it is Ornellaia Vinyard, one of the world's iconic wine estates. Located on Via Bolgherese, 5 km from our property, this pioneer establishment continues to mark the history of great wines. Let's discover it together!
Why we are proud to bring our guests to Ornellaia Winery!
We've chosen to settle in this little corner of Tuscany, where the luxury of everyday life resides in simple things, the beauty of life is found in the small pleasures of everyday.
Good food, great wines, ancient culture, unexplored hills, a community of friends and local connections, a slow pace of living, and sunny days for most of the year thanks to the proximity to the Mediterranean.
Although Bolgheri is not very well known as a travel destination, its name shines among the starred wines in the world such as Sassicaia and Ornellaia, the famous Super Tuscan wines.
When we moved under the Tuscan sun, over 20 years ago, we found out that Bolgheri is not only a hidden gem on the Tuscan coast but a 5-star paradise for wine lovers.
Our home is very close to these famous vineyards, as we live on The Wine Road which leads to Bolgheri.
Ornellaia, just a few km from our property, is certainly one of the most renowned and highly acclaimed wineries in Italy, and I am always thrilled and proud to give my guests a tour of Ornellaia, as it's a confirmation of the great reputation our region has for producing world-class wines.
During a visit, our guests have the opportunity to learn about the winery's history and winemaking process, as well as to taste and purchase some of their finest wines.
They will also get to explore the beautiful estate, take in the stunning views, and enjoy a delicious meal prepared with local ingredients. We're always looking forward to our visit to Ornellaia Winery and all the incredible experiences it will bring!
The History of Ornellaia Winery
In 1981, Marquis Lodovico Antinori founded Ornellaia in Bolgheri, Italy, coming from a 26-generation-old Florentine family of winemakers. His uncle, Mario Incisa della Rocchetta, was the founder of Sassicaia. After working in the USA for Julius Wile, an Antinori importer in New York, Lodovico had initially contemplated starting a winery in California. However, he changed his plans upon consulting with André Tchelistcheff, who was known as the "dean of American winemakers."
After traveling to Bolgheri at the request of Lodovico, Tchelistcheff exclaimed, "Forget about California, this is El Dorado!" The marl, sand, schist, and clay soils, along with the cooler climate from the Mediterranean Sea, were perfect for Bordeaux grape varieties such as Cabernet Sauvignon, Merlot, Cabernet Franc, and Petit Verdot.
1981 : creation of Ornellaia Winery.
1985 : with the help of winemaker Tibor Gál, Ornellaia produced the first vintage of its Super Tuscan wine, released in 1988.
1986 : some of the Merlot on Ornellaia's property, planted in an outcropping of clay close to the woods and hills, is bottled separately, as an experiment. From the 1987 harvest, this 100 % Merlot becomes Masseto.
1987 : a new winery is built.
1991 : Michel Rolland joins Ornellaia as consultant enologist. First vintage of Le Volte dell'Ornellaia, released in 1993.
1994 : First extension of the estate's terroirs, integrating the Bellaria vineyards, situated north of Bolgheri.
1997 : First vintage of Le Serre Nuove dell'Ornellaia, the estate's second wine and Italy's first-ever second wine, was released in 1999.
1998 : The 1995 vintage of Ornellaia, but also of Masseto (100% Merlot) receives worldwide recognition.
1999 : in November, Lodovico Antinori sells 20 % of Ornellaia to Robert Mondavi Winery.
2001 : Wine Spectator names Ornellaia 1998 Wine of the Year.
2002 : Lodovico Antinori sells his 80 % of Ornellaia Winery to Robert Mondavi Winery. Robert Mondavi Winery, which owns 100% of Ornellaia, immediately sold 50% to the Frescobaldi family. The sale to the Frescobaldi family came as a surprise to the Antinori family, as these Florentine winemakers have been the historical competitors of the Antinori family for 700 years.
2005 : January 1st, Axel Heinz joined the Ornellaia team as a winemaker for Ornellaia and Masseto, before becoming the estate director.
2005 : April 1st, after the sale of Robert Mondavi Winery to Constellation Brands, the Frescobaldi family acquires the remaining 50 % and becomes the sole owner of Ornellaia Winery.
2008 : First vintage of Poggio alle Gazze dell'Ornellaia, released in 2010.
2009 : Launch of the "Vendemmia d'Artista project," beginning with vintage 2006.
2013 : First vintage of Ornellaia Bianco, released in 2015.
2016 : Launch of the Ornellaia Archivio Storico.
2022 : Ornellaia 2012, "Red Wine of the Year" according to Decanter Magazine.
Our host at Ornellaia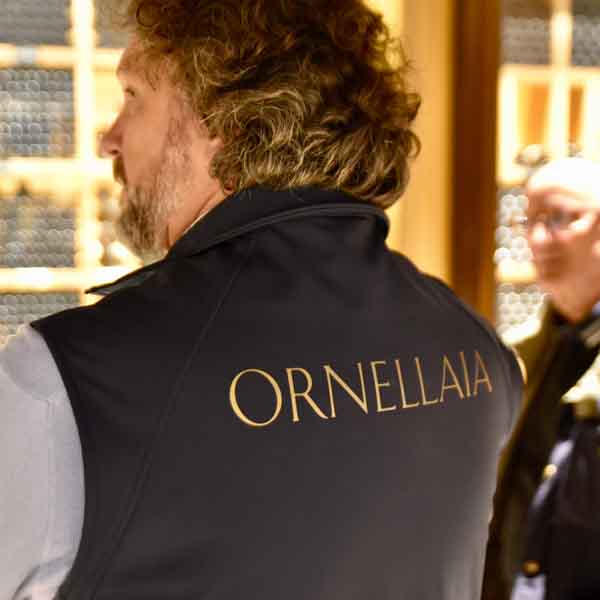 Wine event with piano music at Ornellaia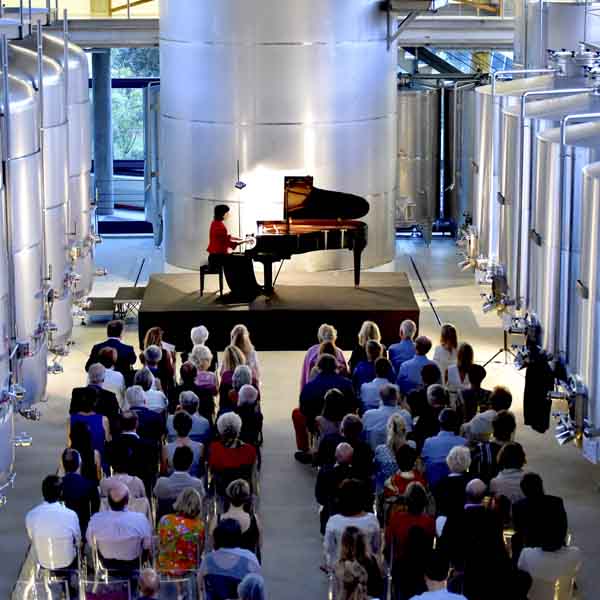 Wine cellar at Ornellaia wineyard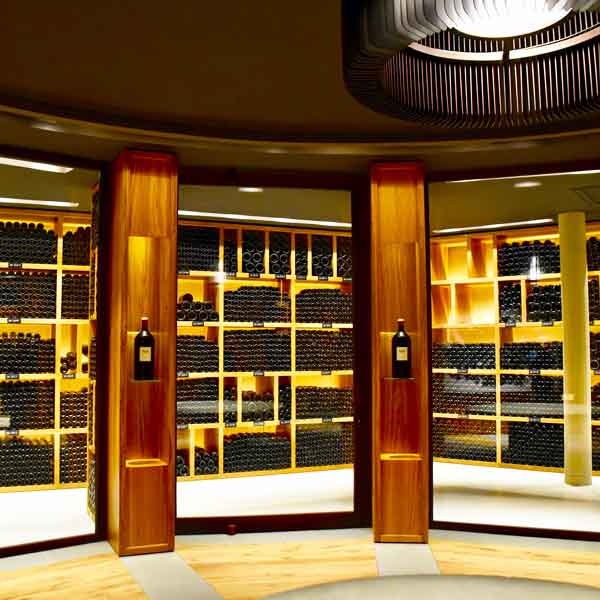 About the Ornellaia Estate
Ornellaia is located in Bolgheri, a small village in the coastal region of Tuscany.
Ornellaia (with Masseto) is the second-largest estate in the Bolgheri DOC, after Guado al Tasso. The estate's 321 acres (130 ha) of vineyards are situated on elevated parcels composed of clay, gravel and loam. Being one of the early settlers, they are one of the few producers who own vineyards in these foothills, between 80 and 130 meters above sea level.
The vineyards are separated into dozens of parcels: each is a microcosm with its own unique identity and expression. The best vineyards for Ornellaia have greater amounts of clay, stonier soils as well.
The mild maritime climate, the lush Mediterranean vegetation, the cooling winds and the light from the sea really create this very unique and very favorable microclimate.
Beautiful entrance to the Ornellaia Winery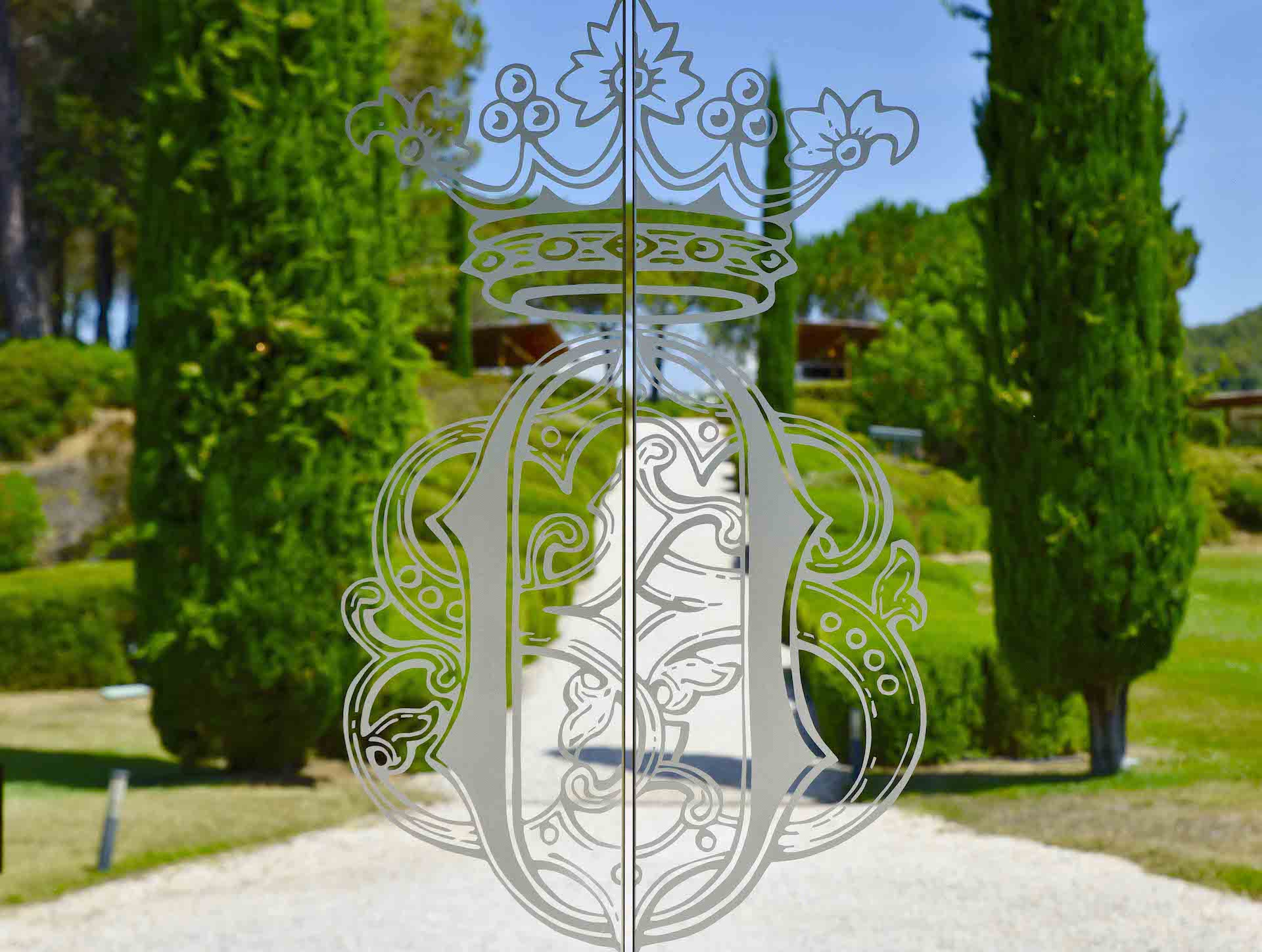 The World Class Ornellaia Wines
---
Ornellaia (Bolgheri DOC Superiore)
In 1985, Ornellaia's first vintage took place and the wine was released three years later in 1988. Ornellaia is the winery's flagship wine. This iconic Super Tuscan wine is produced using French grapes: Cabernet Sauvignon, Merlot, Cabernet Franc, and Petit Verdot. The fermentation process is done in stainless steel and concrete tanks at temperatures between 26-30°C for one week, followed by maceration for 15 days for a total time in the vat of three weeks.
The malolactic fermentation primarily occurs in oak barrels, consisting of 70% new and 30% previously-used barrels. The wine then stays in these barriques, in Ornellaia's temperature-controlled cellars, for around 18 months. After the first 12 months of aging, the wine is blended and returned to the barriques for an additional 6 months. Following bottling, the wine is allowed to age for a further 12 months before being released.
Le Serre Nuove dell'Ornellaia (Bolgheri DOC)
First vintage in 1997 and released in 1999, Le Serre Nuove dell'Ornellaia is Italy's first ever second wine. Crafted from the same varieties, under the same sky, from the same philosophy: Le Serre Nuove dell'Ornellaia has the ability to foretell the personality of the estate's flagship wine.
This second Ornellaia DOC Bolgheri wine is primarily composed of Merlot, with small amounts of Cabernet Sauvignon, Cabernet Franc and Petit Verdot. It undergoes two weeks of alcoholic fermentation in both stainless steel tanks and concrete vats at temperatures of 22-28°C, followed by maceration for 10-15 days. After that, the wine undergoes malolactic fermentation in stainless steel before it is transferred to 25% new and 75% previously used barriques. The wine ages here for 15 months, during which it is blended after 12 months before further three months of aging. Finally, the wine is bottled and left to age for another six months before it is ready to be released.
Le Volte dell'Ornellaia (IGT)
First vintage in 1991 and released in 1993, the estate's third wine grants access into the world of Ornellaia. Le Volte dell'Ornellaia is a blend of the Bordeaux varieties Cabernet Sauvignon and Merlot and the Italian grape variety Sangiovese.
The various grape varietals are fermented separately in small stainless steel tanks to preserve their unique characters. Following alcoholic fermentation, the wine undergoes malolactic fermentation in the same tanks. It is then aged for 10 months in a combination of previously used barriques for Ornellaia and concrete tanks, in order to achieve a perfect balance between its tannic structure and expression of fresh fruit.
Ornellaia Bianco (IGT)
First vintage in 2013 and released in 2015, Ornellaia Bianco is a blend with a majority of Sauvignon Blanc coming from three small vineyards that have demonstrated their remarkable capacity to express the unique character of Ornellaia.
Grapes are hand-harvested in 15 kg crates at the start of the morning and immediately cooled upon arrival at the winery to preserve their aromatic potential. The grape clusters are meticulously inspected and then gently pressed to prevent oxidation. The must is left to rest for 24 hours and then transferred to oak barrels, 30% new and 70% used, for alcoholic fermentation at temperatures below 22°C. Malolactic fermentation is not conducted. The ageing process continues in barrels for 10 months, with occasional stirring, and then moves to steel tanks for a further two months. Before bottling, the different batches are blended and lightly fined. The wine is then aged in bottles for an additional six months before being released for sale.
Poggio alle Gazze dell'Ornellaia (IGT)
First vintage in 2008 and released in 2010, this white wine is a blend of Sauvignon Blanc (69%), Vermentino, Viognier and Verdicchio. Poggio alle Gazze dell'Ornellaia owes its elegant Mediterranean style to the estate's unique microclimate.
The clusters are hand-picked into small 15 kg boxes in the early morning hours and immediately cooled in the cellar to protect their aromatic compounds. Rigorous quality control is then conducted before the grapes are given a gentle, slow pressing, ensuring no oxidation of the fruit. The must is left for 12 hours before being transferred to French oak barrels (25% new and 25% used), steel tanks, and concrete vats (50%). Fermentation temperatures are kept at a maximum of 22°C and malolactic fermentation is not carried out. The wine matures on the fine lees for 6 months, with regular stirring, followed by the blending of the final blend. After a light fining process, the wine is then aged for a further 12 months in the bottle prior to release.
Ornus dell'Ornellaia (IGT)
This exclusive dessert wine is a late harvest Petit Manseng (French white grapes) produced in extremely limited quantities. It takes its inspiration from 'Fraxinus Ornus,' a plant native to the Mediterranean region. Its Italian name 'Orniello' is also the inspiration for the estate's name.
Upon arriving at the winery, each batch is pressed and fermented separately. After a slow and gentle pressing process and decanting for a night, the batches are fermented in 100% new oak barriques with temperatures not exceeding 22°C. Once the desired sugar and alcohol levels are achieved, the fermentation is stopped and malolactic fermentation does not take place. The wine is then aged for 12 months, following which the batches are blended. The wine is then bottled and aged for another year before being released to the public.
Ornellaia wine bottles: Masseto, La Serra Nuove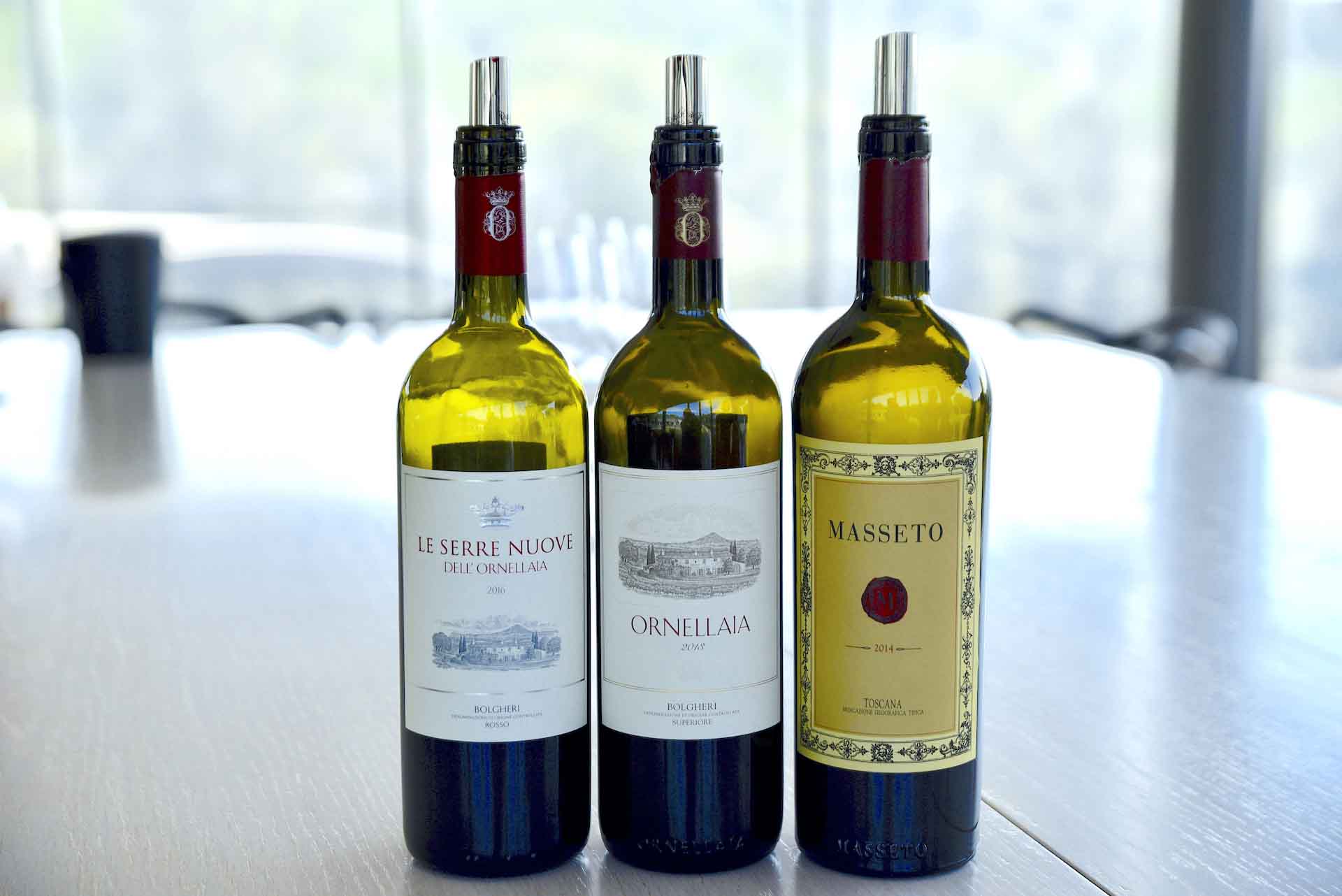 Masseto (IGT), another great success of Ornellaia.
This 100 % Merlot is a special wine. In the early 1980s, while seeing gray and blue clay on the Masseto Hill, acclaimed enologist Andre Tchelistcheff thought this hill would be particularly well suited to planting Merlot. These Merlot grapes were bottled separately, as an experiment. In 1986, this 100 % Merlot wine was the first "prototype" of Masseto and  "so full of promise" right from its first harvest. Tenuta dell'Ornellaia decided to release the 1987 vintage with the now-iconic Masseto front label. It was an immediate success. A few years later, Masseto received its first 100-point score for the 2001 vintage.
In recognition of the increasing importance of this Merlot-based wine, "Tenuta dell'Ornellaia" changed its name to "Ornellaia e Masseto" in 2012, to better reflect its two flagship wines. Vinified and aged at Ornellaia from the first vintage, Masseto had its own winery on the estate in 2019, designed by the Italian architects Zito & Mori. Now, this rare and expensive wine has a little brother with Massetino (IGT). Masseto's second wine was born with the 2017 vintage in October 2019. Massetino 2017 was Merlot 92 % Cabernet Franc 8 %.
Ornellaia Vendemmia d'Artista - limited edition wine bottle labels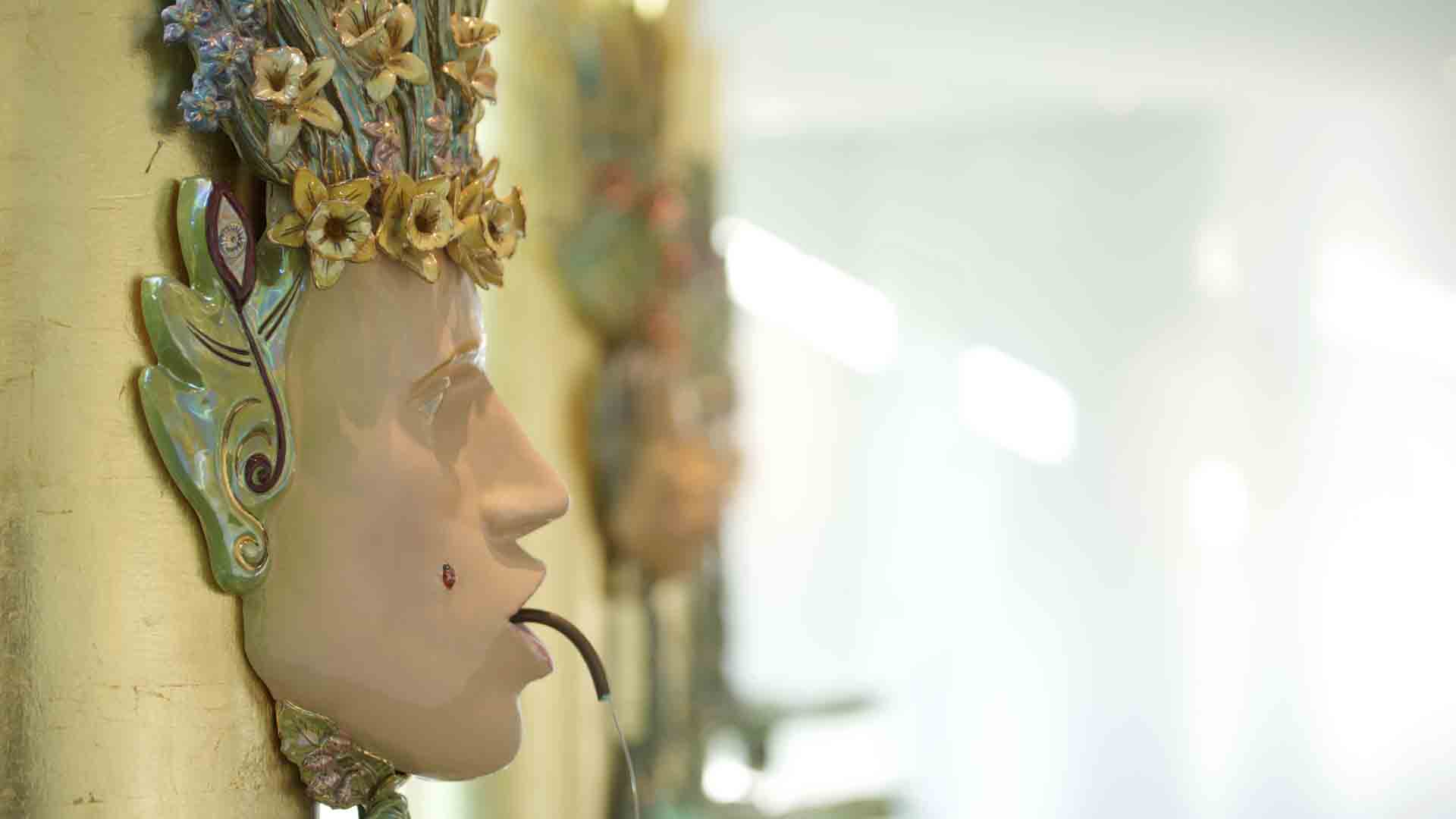 Vendemmia d'Artista
When you visit Ornellaia Vinyard with us, you'll see some unique bottles. This is the "Vendemmia d'Artista project," created by Ornellaia in 2009. Every year since the release of Ornellaia 2006, a contemporary artist creates a work of art and a series of limited edition labels, inspired by a word chosen by Ornellaia's Estate Director to describe the character of the new vintage.
The Vendemmia d'Artista project involves the limited-edition production of 111 large-format bottles (100 Double Magnums, 10 Imperials, and 1 Salmanazar of Ornellaia), which are numbered and signed personally by the artist. Since 2012, every case of Ornellaia has included one bottle featuring a label created by the artist.
Since 2019, the profits made from the Vendemmia d'Artista project are donated to the Solomon R. Guggenheim Foundation's Mind's Eye program, which helps blind or low-vision people experiment with art by using all other senses.
Who is ORNELLAIA owned by?
Ornellaia is owned by the Italian wine producer Marchesi de' Frescobaldi, a prominent Florentine noble family that has been involved in wine for more than 700 years.
Ornellaia was established in 1981 by Marchese Lodovico Antinori of the Antinori family, another prominent Florentine noble family that has been involved in wine for more than 600 years.
In 1999, Lodovico Antinori sold 20 % of Ornellaia Winery to Robert Mondavi Winery. In 2002, Lodovico Antinori sold the remaining 80 % of Ornellaia Winery to Robert Mondavi Winery. Then, Robert Mondavi Winery immediately sold 50 % of Ornellaia Winery to the Frescobaldi family.
In 2005, Frescobaldi family acquired the remaining 50 % and became the sole owner of Ornellaia Winery. At the time, the transfer of ownership of this Super Tuscan wine between two rival Florentine families, who have been at odds for centuries, caused quite a stir.
Where is ORNELLAIA made?
This Super Tuscan wine is made in Bolgheri, a small hamlet in the coastal region of Tuscany, Province of Livorno, Italy. Bolgheri belongs to the village of Castagneto Carducci. To be a Bolgheri DOC wine, all the vineyards must be exclusively on the territory of Castagneto Carducci. If your vineyards are in the next villages like Bibbona, Casale Marittimo, Sassetta, San Vincenzo, or Suvereto, you can't name your wine Bolgheri!
Ornellaia winery is located in the heart of this picturesque region, surrounded by rolling hills and surrounded by vineyards. The Bolgheri area is known for its ideal growing conditions, with warm coastal breezes, fertile soils, and abundant sunlight, which provide the perfect environment for growing high-quality grapes.
What type of wine is ORNELLAIA?
Ornellaia is a red wine produced by the Ornellaia Winery in Bolgheri, Tuscany, Italy. This Super Tuscan wine is a blend of various Bordeaux grape varieties, including Cabernet Sauvignon, Merlot, Cabernet Franc, and Petit Verdot.
The grapes are carefully selected from the winery's vineyards, which are located in the coastal region of Bolgheri, and are known for their ideal conditions for growing high-quality grapes. The 1998 vintage of this Bolgheri DOC Superiore was named Wine of the Year by Wine Spectator in 2001.
Entrance to the Ornellaia Estate