---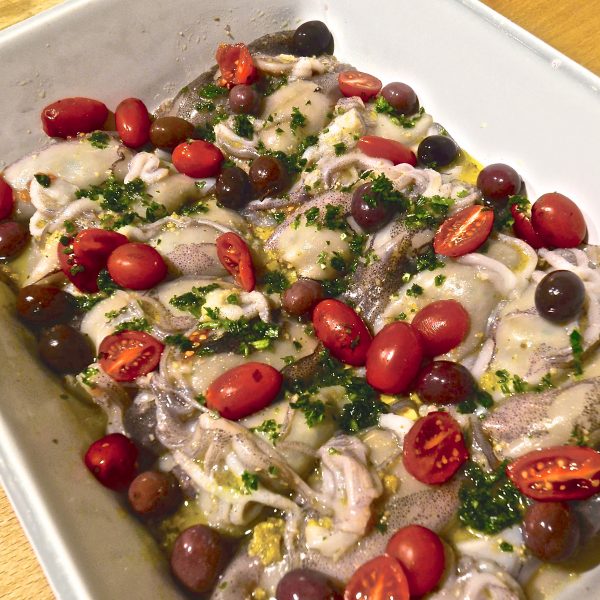 Squids are always good, no matter the way they are cooked : fried, braised, grilled or roasted. In this recipe squids are stuffed with a tasty filling made with bread crumbs, capers and garlic. I didn't mention the black olives over the top…The resulting sauce is just delicious !
 Ingredients
12 small calamari with tentacles, cleaned (about 4 pounds)
100 gr / 1/2 cup bread crumbs
2 garlic cloves
2 sprigs fresh parsley
1 handful capers, washed and rinsed
120 ml / 1/2 cup extra-virgin olive oil
2 anchovies (optional)
1/2 cup dry white wine
10 cherry tomatoes
1 handful black olives
 Directions
Prepare the filling : in a food processor, mix bread crumbs, garlic cloves, fresh parsley, capers, anchovies, and extra-virgin olive oil.
Cut the tentacles from the calamari and set aside. Fill each calamari with 2-3 tablespoons filling but don't over fill them. Close the calamari with a toothpick and place them in one layer in a baking pan greased with extra virgin olive oil. Arrange tentacles on top of the calamari (or where you find some space !) and sprinkle black olives and cherry tomatoes. Season with some more extra virgin olive oil. If you have some stuffing left, sprinkle over the  top. Drizzle with white wine and bake uncovered in the oven for about 25 minutes at 200°C -375°F.
NOTE : You don't really need to add salt as capers, olives and anchovies contain already enough salt.