---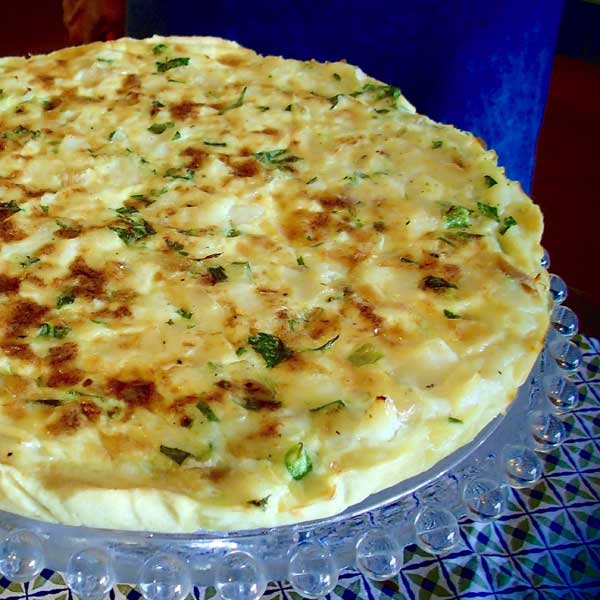 SALTED DRIED CODFISH QUICHE
Have you ever thought about having a dried salted codfish quiche ? Well, I love salted codfish so much that I made this recipe. It is easy and fast once you buy the fish rinsed and soaked; to take all the salt out, you need at least 24 – 36 hours, depends on the saltiness of the fish. I always buy the fish ready to cook and this helps to save a lot of time !
 Ingredients
For the dough
200 gr / 3/4 cup flour 
5 gr 1/3 tablespoon salt 
90 gr butter / 6 tablespoons, room temperature for about 30 minutes prior
1 egg
20 gr / 1.5 tablespoons water 
For the filling
500 gr baccalà – Dried salted codfish already rinsed soaked
200 ml fresh cream
2 eggs
2 spring onions, finely chopped
1 cup parmigiano cheese
1/2 cup parsley, finely chopped
Extra virgin olive oil
Salt & Pepper
 Directions
This dough is so easy that it literally takes 5 minutes !  Mix all ingredients in food processor until it forms a ball. Refrigerate.
If you don't want to make homemade dough, buy one a prepared baking dough .
Prepare the filling : Cook the baccalà in a pot covered with cold water and turn on medium heat. Cook for 10 minutes. when cooked remove skin and fishbones. Then shred the baccalà with a fork.
In a bowl beat the eggs with cream, chopped onions, parmigiano cheese, parsley, salt, pepper and extra virgin olive oil. Whisk until you get a creamy mixture.
Roll out dough to roughly ½cm thick on a parchment paper. Place the dough with the parchment paper in a 23cm baking pan. Press the pastry into the pan, and then pour the baccala mixture.
Bake the quiche in the oven for 35 to 40 minutes at 180°C / 360F°.
Leave to cool slightly before serving.