---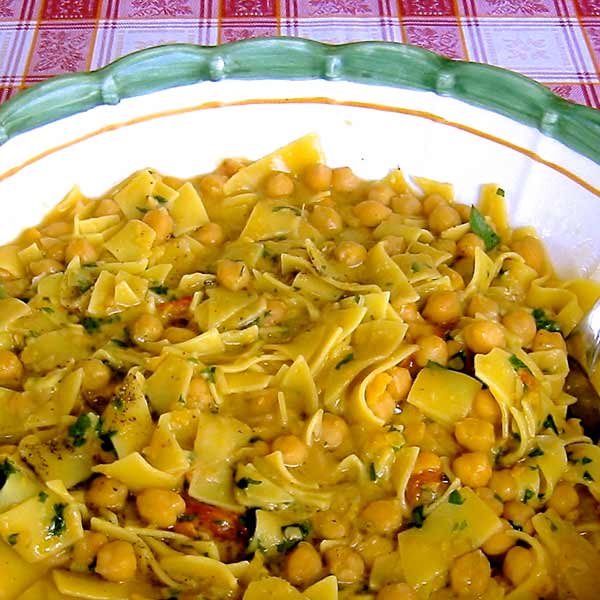 One of our favorite home cooked dishes, chickpeas and pasta is a hearty soup great for winter or cooler days. There are many ways to prepare it, but my family's traditional style cooks the pasta with the chickpeas in the same liquid. This allows the pasta to absorb all the flavors of the chickpeas making the final result a creamy and delicious soup. Give it a try!
 Ingredients
500 gr / 1 lb ground dried chick peas (you can also use canned garbanzo beans)
300 gr / 10 oz egg pasta – like pappardelle or tagliatelle broken into one inch pieces
2 carrots, chopped on dices
3 garlic cloves, peeled and crushed
1 medium onion
2 stalks of celery finely chopped
6 cherry tomatoes, quartered
10 gr / ½ cup fresh parsley leaves finely chopped
100ml / ½ cup extra virgin olive oil
A pinch of dried red chili pepper flakes
2 handful coarse sea salt
Salt & pepper
Directions
Soak the chickpeas overnight in cold water. Wash and drain the chickpeas and cook them in a pressure cooker with half of the celery, carrots, onion, one garlic clove and enough water to cover them (about 4-5 inches). Cook over medium heat until done, about 45 minutes. If cooking in a stove pan, they may need additional cooking time of about 1 hour.
When the chickpeas are cooked, use a handheld blender to purée some of the beans to add a creamy texture to the soup and set aside. Add additional water (enough to cover the pasta with the chickpeas, about 3-4 inches) and cover the pot to bring it to a boil. Once boiling again, add coarse sea salt and the pasta to the chickpeas. Cook the pasta over medium heat, stirring occasionally so the pasta doesn't get sticky. Add some hot water if the pasta is not cooked or the soup gets too dry, but make sure not to add too much water. The final consistency of the soup should be quite thick and not too watery.
While the pasta is cooking, sauté the garlic, the rest of the celery, carrots, and onions, the dried red chili flakes, and the cherry tomatoes in extra virgin olive oil. For a traditional Tuscan flavored soup, you can also add chopped bacon here. When the pasta is finished cooking, add the sautéd mixture to the pot of pasta and chickpeas and mix well. Again, the consistency of the soup should be creamy and not too thin.
Serve the chickpea pasta in a large bowl and season with olive oil, salt and pepper and sprinkle with parsley.