---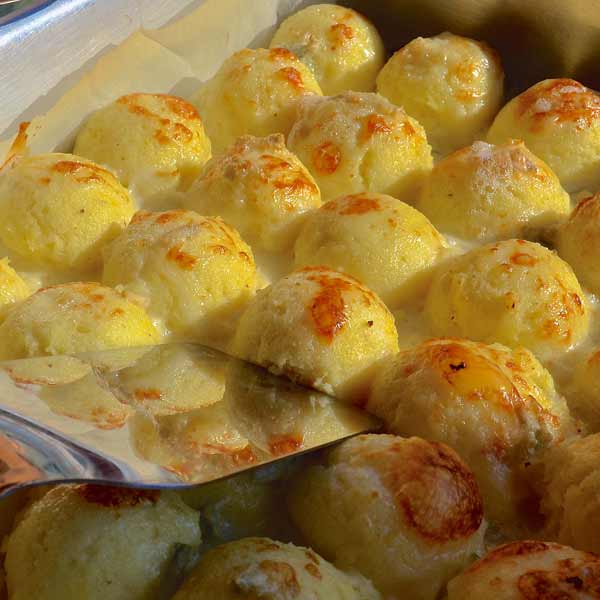 SEMOLINO GNOCCHI
Print Recipe
When it comes to making gnocchi we always think about a long process. But this semolina gnocchi recipe is a really easy one: you don't have to make a classic dough and once shaped, the gnocchi are baked and not boiled. You can easily feed a crowd and they can be prepared in advance.
Equipment
Parchment paper

Pot

Whisk

Wooden spoon

ice cream scoop
Ingredients
250

g

coarse semolina flour

-

/ 1 ½ cups

1

liter

whole milk

50

g

unsalted butter

-

/ 4 Tbsp

30

gr

Parmigiano cheese

-

grated, / ~1/2 cup

2

egg yolks

a pinch of nutmeg

1

handful

coarse sea salt
For topping :
30

g

Parmigiano cheese

-

grated, / ~1/2 cup

2

handfuls

fresh sage

-

leaves finely chopped

50

g

butter

-

/ 4 Tbsp, cut into small flakes, one small flake put on each gnocchi
Instructions
Preheat the oven to 180°C / 360°F

Line a baking pan (14 x 6,2 inches – 35 x 16 cm) with parchment paper.

In a pot, add milk, butter, salt and bring to a gentle boil over medium heat. You don't want to over boil the milk.

When milk starts soft boiling, pour in the semolina flour very slowly, in a steady stream. At the beginning mix with a whisk to avoid lumps, stirring vigorously.

When the semolina mixture starts thickening, use a wood spoon to stir. Keep stirring continuously, down to the bottom of the pot to prevent semolina from sticking and lower the heat if it's over boiling.

The temperature is important: you want to lower the heat so that you don't burn the bottom, but you don't want to turn the heat off because you want to cook off the milk.At the beginning your mixture looks very liquidy but over time it gets thicker and thicker as we cook off the milk. We want a very stiff semolina mixture so that the gnocchi will hold the shape.

 Your semolina is cooked when it pulls away from the side of the pot.

Turn off the heat, wait a couple of minutes and add the egg yolks, parmigiano cheese, a sprinkle of nutmeg, black pepper. Mix well.

How to shape gnocchi:

– Put on the side a bowl of cold water.

– With an ice cream scoop, scoop some dough packing it very well by pressing the flat bottom against the side of the pot. It's important to fill the ice cream scoop very well to have nice balls.

– Place your gnocchi (it looks like a little dome) on the baking pan lined with parchment paper. 

– Dip the ice cream scoop in the bowl of water, shake it very well to rinse it well. This will prevent the ice cream scoop from sticking. 

– Repeat the shaping.

Arrange the shaped gnocchi making rows of 5 gnocchi.  Gnocchi can touch each other because they will not stick when cooking, so make tight rows keeping the gnocchi close. 

Sprinkle gnocchi with parmigiano cheese, sage and add a little butter flake on each of them.

Bake the gnocchi until golden brown. Serve warm.
Notes
Gnocchi variations: before shaping the gnocchi, you can add cooked and blended vegetables to the semolina, like cooked spinach (your gnocchi will be green), cooked squash (orange gnocchi), and all kinds of cooked vegetables. Make sure to dry/squeeze as much moisture from the cooked vegetables before adding.
Use different toppings: instead of butter and sage you can use gorgonzola, tomato sauce, sausages, or whatever you like!
This recipe is a great one to freeze: before baking, freeze your gnocchi and use them when you need. Just take it out of the freezer and bake it (no need to defrost).
Print Recipe