---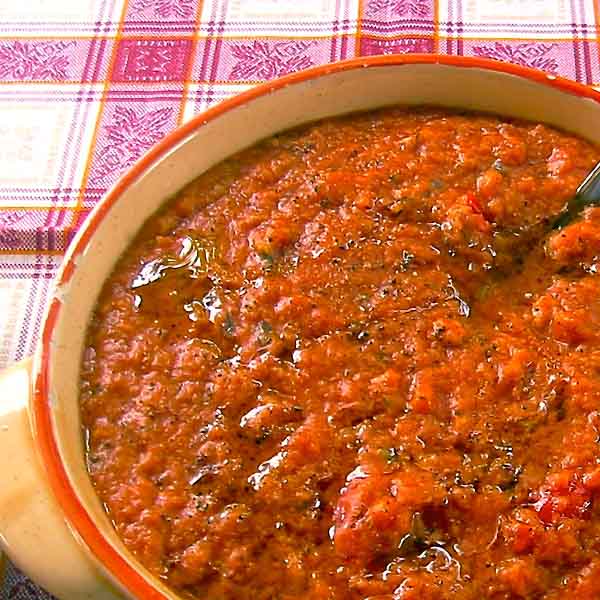 TOMATO BREAD SOUP – Pappa al Pomodoro
In the Tuscan countryside many recipes call for stale bread, during the days when wasting food was not a habit. This classic country recipe has few ingredients but they must be all excellent ! Good tomatoes, great Tuscan extra virgin olive oil, farm bread and some herbs are the basic components of this red, soft, full of summer flavor soup!
 Ingredients
• 160g / 6oz / about 4 slices stale rustic style bread
• 200g / 7oz fresh tomato (cherry/roma), diced
• 300g / 14½oz can or half of a 28oz can San Marzano tomatoes
• 2 garlic cloves, finely chopped
• 1 shallot, finely chopped
• a handful sage, leaves finely chopped
• 60g / 2oz / ~⅔ cup Parmigiano cheese, grated
• 1 handful basil leaves
• 1/3 cup extra-virgin olive oil
• 250g / ~9oz mozzarella (small balls, diced or small pieces)
• Salt & pepper
Directions
How to prepare pappa al pomodoro
1. In a bowl, soak the stale bread in water until soft.
2. In a saucepan, sauté garlic, shallot and sage with extra virgin olive oil over medium to low heat.
3. Squeeze out the bread very well to remove as much moisture as possible and then add to the pan.
4. Add the bread and cook for a few minutes until bread has absorbed all the flavors of the sauté. This step is important to build flavor into the soup.
Move constantly to avoid the bread from sticking to the bottom of the pan.
5. Add the chopped fresh tomatoes and the canned tomatoes. Mix well. Break the canned tomatoes with a spoon while stirring and cook over medium to low heat.
6. In case the bread is not softened, add a bit of water as needed. This depends on the bread used.
7. Cook for about 20 minutes, until the bread is soft, almost puréed.
8. Turn the heat off, add parmigiano cheese and basil leaves. Cover the soup and let stand for about ten minutes so that the bread absorbs the excess of liquid.
9. Taste and season the soup with salt and pepper to personal preference.
10. In a small food processor, place the diced mozzarella, a dash of extra virgin olive oil and pulse until it's creamy. Use mozzarella cream as garnish.
How to finish and serve pappa al pomodoro
Once your soup is done, here are my three alternative options to serve this soup, that I use depending on different occasions.
1. Serve the soup warm in individual bowls and seasoned with extra virgin olive oil, salt & pepper to taste. Garnish with some basil leaves and a spoon of mozzarella cream.
2. Place the soup in a baking dish, sprinkle abundant parmigiano cheese, a little drizzle of olive oil and bake it at 200°C / 375°F until the cheese is melted and turned into a nice brownish color. This is a great method to use if you have leftover soup or you want to prepare pappa ahead of time and eat it later during the day. Garnish with some basil leaves and mozzarella cream.
3. Use this recipe as a starter, serving the pappa cold in small glasses with a crunchy cracker. Garnish with some basil leaves and a small amount of mozzarella cream.
RECIPE NOTES
– The consistency of the soup should be pretty thick, not liquidy.
– The ratio of bread is 40 gr / 1.5 oz per person
– Instead of water, you can use a vegetable stock