---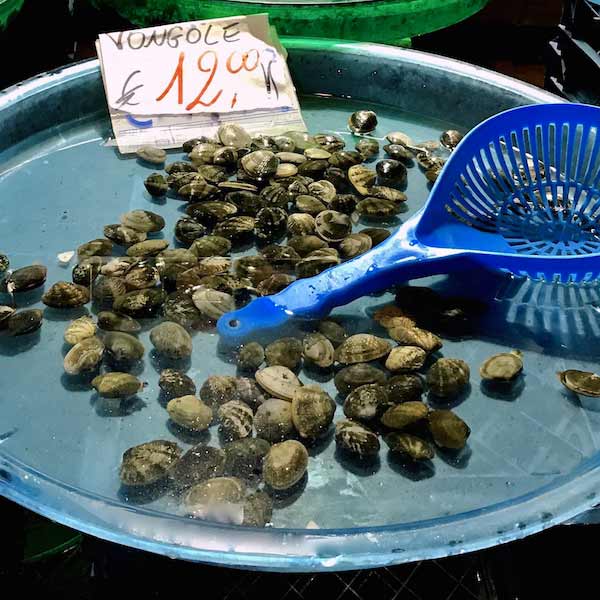 This quick and easy to make recipe delivers an incredible flavor, like you are tasting the sea. My version doesn't include tomatoes, so it is considered 'in bianco.' If you want to add color, throw in some diced tomatoes. It is a real treat for your palate, especially when using a high quality pasta (check for pasta di Gragnano). The result is terrific! Clams may be substituted by other types of mussels, too.
 Ingredients
500gr / 1 lb spaghetti or linguine
1 kg / 2 lb clams, the smaller the better
4 garlic cloves, 3 peeled and finely chopped and 1 peeled and crushed
120 ml 1/2 cup extra virgin olive oil
2 handfuls cup fresh parsley leaves, finely chopped
3 handfuls coarse sea salt
½ tsp of chili flakes
Directions
Place a large saucepan over medium heat, then add some extra virgin olive oil, the crushed garlic and chili pepper. Sauté gently for about 3 minutes (don't brown the garlic), then add the clams and cover with a lid. Steam the clams until they open and discard any clams that have not opened. This usually takes about 8-10 minutes. Take clams from the shell, while keeping just a few with shells for plating decoration, and strain the liquid they released to relieve them of any sand left behind.
Meanwhile, bring about 4 quarts of water to boil in a large pot. Add coarse sea salt once boiling and then cook the spaghetti. Remove the pasta before it is fully cooked or about two minutes before it is finished cooking and drain it, while saving some of the cooking liquid.
While the pasta is cooking, pour a generous amount of extra virgin olive oil to cover the bottom of a sauté pan that is large enough to hold all the pasta. Sauté the chopped garlic without burning it, then turn off the gas. Add the clams and their liquid, but do not add any extra salt to the sauce because the clams are already salty.
Finish by adding the spaghetti to the pan with the clams sauce. Simmer for 2-3 minutes over medium heat, and add more cooking water if needed. Stir until the pasta is tender and the sauce is creamy.
Garnish with parsley and the unshucked clams. Serve immediately.
NOTES:
Before cooking, soak the clams in cold salt water for at least 30 minutes. This is important to purge the clams of their sand because even a few grains will ruin your dish.

The quality of pasta is crucial to the flavor of this dish. Try to find the best quality of spaghetti or linguine and avoid any potential mushy pasta!

B

e generous with the extra virgin olive oil. It is the base of this sauce and the pasta has to slipper in the oil!