---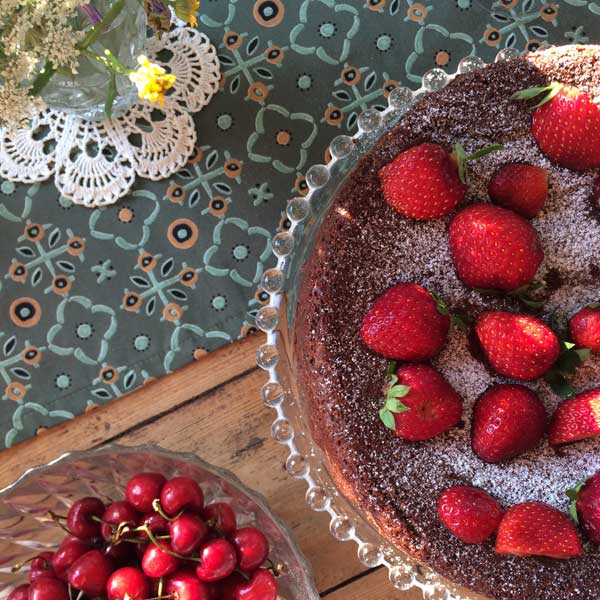 Chocolate lovers, don't miss this cake ! It is a traditional Neapolitan cake and it's named Caprese al Cioccolato in Italian. When you think about caprese your mind goes to tomatoes and mozzarella, but in this case we talk about a dark chocolate moist cake. This recipe calls for a lot of almonds, a little flour and, of course, the best dark chocolate you can find !
 Ingredients
200 gr / 7 oz sugar
300 gr / 10 oz  butter 
400 gr / 14 oz dark chocolate (I use the 70% dark chocolate)
225 gr / 8 oz peeled almonds
75 gr / 3 oz  flour
16 gr / 3 teaspoon baking powder
7 eggs
 Directions
Prepare the cake in a food processor with a capacity of about 1 liter. Otherwise you can use a hand or counter mixer.
Start by melting the butter and the dark chocolate together. The success of the cake depends mostly on the way the chocolate and butter are melted, at a very low temperature and without burning the chocolate.
Put the almonds and the sugar in the food processor. Mix until the almonds are finely chopped and you get a kind of flour. Crack and add the eggs (whole) and mix very well, for about 5 minutes. Add the chocolate and butter (melted), the flour and baking powder. Mix very well again.
Put some parchment paper in a baking pan about 22-25 cm in diameter. Pour the mixture and bake in a preheated oven for about 40-50 minutes at 200°C / 390°F. The cake is done when you put a knife in it and the knife comes out dry. It's okay if the knife is a little 'dirty'.
The cake must remain moist, not too dry.
Take the cake out of the baking pan with the bottom up and put some powder sugar on it.
Tip: This cake is very good after 2-3 days, and you can skip the flour or substitute it with corn starch if you want to have a gluten-free dessert!